---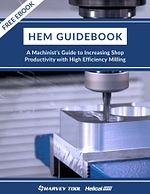 High Efficiency Milling (HEM), has been proven to boost shop efficiency and productivity by maximizing Material Removal Rates in roughing applications. This machining method utilizes an unique radial and axial depth of cut strategy to prolong tool life.
---
---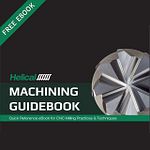 The Helical Machining Guidebook is a 70-page, quick-reference eBook filled with CNC milling terminology, techniques, and troubleshooting tips. Use this helpful resource, full of in-depth techniques and guidelines, to hone your CNC skills and achieve reduced cycle times, increased tool life, and better results.
---
---
---
---
Our technical blog, "In the Loupe," is dedicated to machining how-to's, technical tips, and tool selection guides. From how to get started in the machining industry, to proper tool entry methods and even tips for achieving Green Machining, access more than 100 helpful resources at any time and share them easily with fellow machinists to bring your CNC skill to the next level.